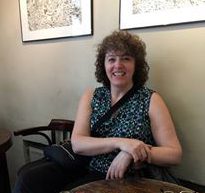 Dear Members,
I am honored to write you as your new president, and want to thank Liz Shepherd for her years of service at the helm of The Boston Printmakers. Liz saw us through two North American Print Biennials and Arches Student Shows, making many needed improvements along the way.  Liz also attracted new members to join the board of directors. She opened her home and print studio as venues for annual meetings and events. It will be hard to match her as president. I will have to rely on the commitment of the board to continue in their roles, and in the direction Liz has pointed us.  The full complement of 2016 officers is: Sharon Hayes, vice president; Susan Denniston, treasurer; and Bob Tomolillo, secretary.
Liz also oversaw numerous members' exhibitions if you recall, and most recently "2016, A State of Mind" at the Lamont Gallery in Exeter, N.H. Thanks to the 80+ members who have entered work in this show! Congratulations to Bob Tomolillo who proposed the theme, found the venue, and gave a gallery talk titled The Print's Powerful Potential: Boston Massacre Redux. Also thanks to Sandra Cardillo and Christiane Corcelle who worked on the members' show committee with Bob.  Please look for the slideshow of "2016, A State of Mind" on our website.
By the way, have you seen our new website! Christiane Corcelle updated it to be visible and functional on any device, and gave it a whole new look. Visit bostonprintmakers.org often and enjoy years of content, remembered in the numerous slideshows and newsletters. I would also like to recognize the membership for providing such interesting members' news, and to thank Stephanie Stigliano for her great work. Stephanie has maintained an ambitious schedule for posting news, and also has put together quarterly e-newsletters. Please be sure to keep your emails up to date to receive all of your members' information.
Lastly, I would like to announce that we are approaching our 70th Anniversary Year! You already received notice of "Marking Time: Celebrating the 70th Anniversary of The Boston Printmakers." As members you may submit a representative work from any point in your career. We hope to have an exceptional number of entries for this exhibition. The Cotuit Center for the Arts is an exciting summer destination, and we are looking forward to having a show on Cape Cod. The 2017 North American Print Biennial is all lined up: the juror is Judith Brodie, curator and head of the department of modern prints and drawings at the National Gallery of Art, Washington D.C. The prospectus will be announced January 2017 and the exhibition will open January 2018 at Lesley University College of Art and Design in Cambridge, Mass. We will keep you up to date with additional anniversary year events as they develop. Let's make 2017 a true celebration of this venerable organization!
All my best,
Renee Covalucci
President